Local music talent will now have an opportunity to further their professional careers
thanks to a new joint initiative by Stormfront Productions and the Whyalla City Council.

Stormfront Productions member Alison Hams said the initiative was 'born of an idea that we
wanted to get young musicians out of the bedroom and out to the greater world'.

Acting Council Chief Executive Officer Migelle Hiscock said the council were 'very keen'
to be supportive of the scholarship, which had been identified as a positive initiative by the Whyalla Youth Council.

"They have about six months to take that physical opportunity in the studio and
record their song, then the following six months leading into next year's scholarship
will be a mentorship of sorts," Ms Hams said.

The couple's music service company Stormfront Productions was inducted last Wednesday night at the South Australian Regional Awards for the Whyalla and Eyre Peninsula region.

The awards were held at the Westland Hotel Motel with about 200 guests celebrating the achievements of individuals, groups and businesses in the region.

The company picked up its third award for service to the arts and creative industries at last week's awards ceremony, earning Stormfront Productions a place in the Hall of Fame.

Ms Hams said it was interesting to see that arts award category changed this year to incorporate arts and creative industries to recognise viable arts businesses.

"We're very proud that the arts cannot only be recognised as creative and sometimes just as a hobby but can also be seen as a sustainable full-time business and as far as Stormfront Productions is concerned, offering a valuable service to the region," she said.

Ms Hams said Stormfront Productions has had a long history with the awards and she and Mr Tempany strongly supported what the South Australian Regional Awards were all about.

"We really support Brand SA and their promotion of the regions and for them to have these awards to acknowledge people in country areas that are thinking big is great," Ms Hams said.

Mr Tempany said it was an incredible honour to be inducted into the Hall of Fame for the awards, which really provided a platform for recognition for groups and businesses that might not otherwise have a particular place.

"These guys have a really broad view of the regions in everything, not just the arts," Mr Tempany said.

"I love that I am able to use what I can do as a singer to give back," she said.

"It's so cool that they're recognising the things that sometimes slip through the cracks."

A number of Whyalla businesses and community organisations were winners on the night with Whyalla Aged Care picking up the Telstra Large Business Award for its professional service in meeting the increasing needs of an ageing population in the region.

Bedford Group Eyre Peninsula took out the Royal Agricultural & Horticultural Education Foundation of South Australia Community Group Award for its valuable services in both the Whyalla and Port Lincoln communities.

Rounding out the winners was UniSA's Department for Rural Health Sport 4 Rural Health initiative, picking up the ReturnToWorkSA Award.

LIONS Arrium Onesteel
"CAROLS IN THE PARK" 2014
Stormfront's Mark Tempany and Alison Hams were very proud to once again act as Stageshow Co-ordinators for the largest FREE Concert event in Regional South Australia - LIONS Arrium Onesteel "CAROLS IN THE PARK"


A crowd of over 5000 once again flocked to Civic Park to "Celebrate Christmas With Whyalla" with a colourful and vibrant stageshow made up of a team of nearly 100 cast & crew including:


The Carols Community Choir, Glitterbugs,
Two's Company, Kimberley Nitschke, Peter Brown, BOOMSTARS,
Mark Tempany & Alison Hams.....and of course SANTA!

10th Anniversary "CONCERT NIGHT" 2014
Saturday 15th November 2014 saw Stormfront Productions proudly present its
10th Anniversary Concert Night to a bumper crowd of over 250 at Whyalla's Eyre High Auditorium.


The 2-hour show - celebrating a decade of Stormfront's Music Tuition Service operating in Whyalla - featured 52 performers ranging in age from 4 to adult, and a wide cross-section of soloists, groups, duo's, instrumental and band pieces.

"Harnessing Young Talent" Port Pirie 2014
On Friday 10th of October 2014, Mark Tempany & Alison Hams
hosted an all-day Music Workshop at the
"Harnessing Young Talent" weekend in Port Pirie, S.A.


The 3-day event was held to encourage performers of all ages and genres to learn more about the music industry with a Talent Quest on Saturday (Mark & Alison acted as adjudicators alongside Tracy Stewart) culminating in a Gala Awards concert - where Mark & Alison were guest performers.
Brand South Australia Awards
On Wednesday 1st of October 2014, Mark Tempany & Alison Hams
performed at the Brand South Australia Regional Awards Night.


The South Australian Regional Awards are held annually to celebrate and showcase
the achievements of individuals, groups and organisations that have made significant contributions to regional South Australia
.

The Whyalla & Eyre Peninsula Awards were held at the prestigious
Port Lincoln Hotel with an elegantly presented gourmet two-course meal,
an array of local wine, a selection of South Australian beer and of course Mark & Alison as entertainment.



Mark & Alison soundcheck, walk the red carpet, and perform to a full house at the Awards
An ACOUSTIC AFTERNOON
On Sunday 28th of September Mark Tempany & Alison Hams
hosted a fantastic bunch of Stormfront Music Tutoring students
who showcased their talents at Tanderra Craft Village at the "Acoustic Afternoon".


The"Acoustic Afternoon" featured Mark & Alison,
along with nine acts who each performed 3 songs in an intimate setting to an appreciative audience!


Mark & Alison at An ACOUSTIC AFTERNOON

Whyalla News - Thursday August 14th, 2014
Whyalla's eighth annual "JAMM For Genes" concert rocked the Westland Shopping Centre Foodcourt on Thursday night August 7th - raising awareness and funds for the national Jeans For Genes charity.

Whyalla's event is the longest running "JAMM" in Australia and not only did the annual concert allow Whyalla's young talent to shine while supporting a worthwhile charity, it also gave members of the public the opportunity to enjoy a night of free entertainment and patronise local business at Westland Shopping Centre.

This year's "JAMM" (hosted by Alison Hams & Mark Tempany) featured a cast of 52 performers from Stormfront Music Tutoring ranging in age from 4 to 22, with a crowd of over 250 enjoying the non-stop, 2-hour concert. All performers were brilliant -
with 20 making their "JAMM" debut!

$587 was raised on the night - bringing the Whyalla event's total raised since 2007 to more than $3800.

Jeans For Genes funds The Children's Medical Research Institute (CMRI) - an independent organisation committed to unlocking the mysteries of genetic diseases in children.

"JAMM For Genes" is an initiative to encourage musicians & their love of music to sponsor this wonderful charity each year.

Mark at the 2014 JAMM For Genes - pic J.Payne

By LION Terry Hill - Tamworth, NSW January 2014
Pictured are Mary Donnelly (National Manager) & Nermeen Yacoub - Events & Community Fundraising at CMRI in Sydney receiving the cheque for $500.
In 1994 the LIONS Club of Tamworth Peel Valley Inc. instigated an award to honour people involved in Country Music who have used their musical talents to give community service in a voluntary capacity.

In 2014 Mark Tempany and Alison Hams from Whyalla, South Australia were selected to receive the 21st Australian Country Music Community Service Award at the Tamworth Country Music Festival.

The Award will be presented by Peel Valley Lions Club president Mike Ham live on air on Tamworth Toyota Festival FM on Tuesday 21st January at 11.30am.

Mark and Alison, both accomplished artists in their own right, have given many years of service in co-ordinating and performing at Whyalla's Carols In The Park.

The pair raises money and donates performances for local events such as the Whyalla Tappers, Relay For Life, and aged care facilities as well as national charities J.D.R.F and the Children's Medical Research Institute.

They also mentor and encourage many young artists to embrace their musical talents through their successful Stormfront Music Tutoring service in Whyalla, and through workshops and talent quests at festivals all over Australia.

Mark and Alison will receive a distinctive trophy created by Tamworth renowned ceramic artist Fred Hillier and a cheque for $500 which they will donate to the Children's Medical Research Institute.

By Kirsty Davis - Tuesday December 17th
Crowds of an estimated 5000 people attended OneSteel Whyalla and Arrium Mining's annual "Carols In The Park on Sunday.
Children, parents and grandparents alike all headed out with their picnic blankets and candles ready to sing-a-long to some of their favourite Christmas carols.
The free event was held at Civic Park on Sunday, December 15 with a host of local performers hitting the stage including the Whyalla Players, Mark Tempany and Alison Hams, the Carols Community Choir, Kimberley Nitschke, Whyalla Hip Hop Dance School and Twice Shy.
"Carols In The Park" stage show coordinators Mark Tempany and Alison Hams said overall the night was a great success.
"We think it was a fantastic night and we were blessed with great weather," Mr Tempany said. "We had another huge crowd and hopefully we sent Whyalla to Christmas on a good note."
Mr Tempany believed the event attracted similar crowd numbers to last year's "Carols In The Park, but said numbers had increased over the past five years.
"Everyone did a fantastic job," Mr Tempany said.
"We are particularly proud of our Whyalla cast, the show stands on the quality of talent of locals here in Whyalla.
"We also appreciate the work off stage ran by Gavin Chandler."
Special guests the Fabulous Lemon Drops travelled all the way from Brisbane to perform at the Carols.
Many eager children squeezed to the front to see their favourite characters come to life.
The big man in red himself Santa Claus also made an appearance, despite his busy schedule.
Santa danced and sang a few songs with the Carols Community Choir before he had to head back to the North Pole.
Mark and Alison thanked the Whyalla and Mount Laura Lion's Clubs for their continuing service to the event.
"We would like to say a big thanks to the Whyalla and Mount Laura Lions Clubs and all our sponsors and we hope to be involved again next year," Mr Tempany said.
Locals are encouraged to check out the event's website www.whyallacarols.com in the next week or so as organisers post more photos and feedback from Sunday night's show.

By Daine Hoffman - Thursday November 14th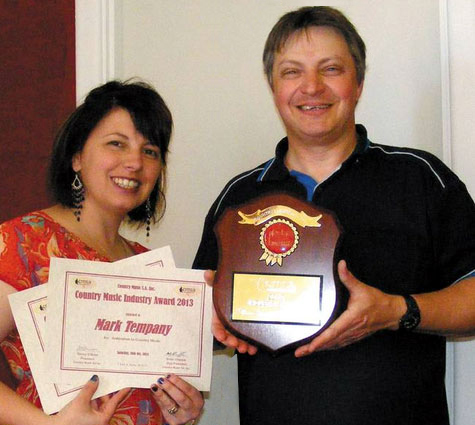 Local music icons Alison Hams and Mark Tempany have been awarded a prestigious Country Music SA Country Music Industry Award.
The award was presented at Country Music SA's Champion of Champions awards night.
However the pair was not able to attend the awards night as they had already committed to performing at the Whyalla Tappers charity concert.
Because of this the pair did not find out about the award until they were surprised on live radio.
Radio Adelaide DJ Tamara Wellman knew about the award and arranged the interview under false pretences, with the pair thinking they were going to discuss their project the "Jelly Baby Song".
"When Tamara began to tell us how she had attended the presentations the night before, we thought that was lovely, however we weren't quite sure how announcing all the winners during our interview was relevant, but it soon became apparent," Mr Tempany said.
"We are very honoured and dedicate the award to our family, friends and supporters who allow us to do what we do and love," Alison said.
The pair said they were surprised to have the award announced on live radio.
"Even though we knew it (the awards night) was on, it had kind of gone off our radar a little," the pair said.
"The radio interview was a really nice way for Country Music SA to announce it, and we were actually a bit speechless but very honoured nonetheless."
The pair said as the Christmas period comes around they were busy with a number of commitments for them and their students.
The biggest event for them will be "Carols In The Park".
They said they would love to release some new material in the future.
"The focus for 2013 was always our charity single"Jelly Baby Song", so now we would like to get into the studio and demo some more of our songwriting," the pair said.
"We have both released solo albums up to this point, so a collaboration of the two of us would definitely be a long term goal."
However Mr Tempany and Ms Hams said it was hard to find time for themselves, but agreed that they would not have it any other way.
"Whether we are teaching music, organising concerts, travelling to country music festivals or working in the studio, we feel that through music we can offer a little bit of joy and give back to the community, be that through teaching, performing or our charity work," they said.
2013 "Riverland Country Music Festival"
Mark Tempany and Alison Hams have again been "on the road" to the 35th Annual Riverland Country Music Festival and accompanying SA Country Music Awards in Barmera, SA.
One of the longest-running music festivals in Australia - and SA's premier Country Music event - Mark hosts the SACM Awards, and Alison features as part of the elite SACM Awards Band. Mark & Alison also perform as Feature Artists in this 10-day long festival which attracts hundreds of visitors to the Riverland each June long weekend.
Mark & Alison performed live at both the SACM Awards Presentation Concert at Barmera's Bonney Theatre as well as the SACM Award of Excellence at the Barmera-Monash Football Club and at the festival's final Campfire Concert at Cobdogla Station Caravan Park.
2013 "Fishy Fringe Festival"
ABOVE:
Alison & Mark at
Fishy Fringe Festival on Easter Sunday March 31st.
Whyalla's annual "Fishy Fringe Festival" has staged at
Whyalla's Foreshore on the Easter Weekend once again.


The 2 day festival features arts and crafts, foods from around the world
and the fantastic BHP Billiton stage featuring
local artists of different musical genres showcasing their talents for the
large crowd gathered from all over Australia
enjoying the Australian Snapper Championship and festival atmosphere.


Mark and Alison hope to enjoy their association
with this annual event for many years to come
and thank Events Whyalla and Gavin Chandler Sound
for another enjoyable Easter show.

2012 LIONS Onesteel Arrium "Carols In The Park"

ABOVE:
Alison & Mark with the Carols Community Choir at
Carols In The Park on Sunday December 16th.
Whyalla's LIONS Onesteel Arrium "Carols In The Park" has staged in Civic Park to a massive "biggest ever" crowd.
Cast, crew and audience alike had an absolute blast and perfect weather prevailed as Whyalla celebrated Christmas as a community in spectacular style.


CHECK OUT our 2012 story at....
www.whyallacarols.com
2012 COMMUNITY SERVICE AWARD

ABOVE:
Alison & Mark with fellow Community Service Award winners and
Whyalla's Mayor on 26th January 2012.
Mark and Alison Hams have won a 2012 Australia Day Community Service Award for their contributions to the Whyalla music scene -
and in particular their work tutoring music to kids, and associated charity performances over the last 12 months.

Alison said "This award pays true testimony not just to the work Mark & I enjoy doing - but also to the fantastic dedication shown by our students over recent years to donate their talents and energies to community causes".

Alison also won Whyalla's "Young Citizen Of The Year" award in 1999 - and LIONS Onesteel "Carols In The Park" won "Community Event Of The Year" in 2010.
2011 LIONS Onesteel "CAROLS IN THE PARK"

ABOVE:
Mark with Alison Hams at LIONS Onesteel "Carols In The Park"
in Whyalla, South Australia on December 12th 2011.
Mark, Alison Hams and their Stormfront Productions crew have completed another fantastic "Carols In The Park" in Whyalla's Civic Park in front of a record crowd of over 5800 people.

This year including an all-star local cast and Aussie television icon Humphrey B. Bear - this stageshow has rapidly grown to become the biggest free public concert event in regional SA.

CHECK OUT our 2011 story at....
www.whyallacarols.com
2011 "McHAPPY DAY"

ABOVE:
Alison, Mark & coordinator Jaci at Whyalla's 2011 McHappy Day.
Mark and Alison Hams made their annual volunteer appearance at Whyalla's McHappy Day - raising money for the national Ronald McDonald House charity.

As well as working in-store this year, the duo were also joined by Stormfront Music Tutoring students Jade, Hayley and Ashlee who performed on the outside stage with Whyalla's own One Night Stand.

McHappy Day is a wonderful chance to give-back to kids in need -
and Whyalla put on a great show to ensure a fun day was had by all!